Home

The Theory and Practice of Joy

Blessing Cards

Art

Poems

Art and Poems

Contact the Artist
Artist's Bio
Links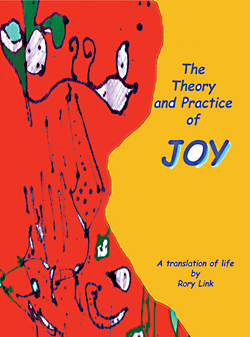 The Theory and Practice of Joy is a playful, serious, and encouraging exploration of bringing more enJOYment into our lives. Rory Link's words and images elevate the process of self-discovery beyond the expected, balancing gentle written advice with transporting and energetic combinations of colors, glyphalalia, and shamanic metaphor as a method that is at once calming, exciting, and encouraging. Open and read random portions of Theory and Practice of Joy whenever you need a lift or a break from your daily experience, or sit down and read it cover-to-cover.
Copies of The Theory and Practice of Joy are available at:

Pacific Northwest Shop
4411 Wallingford Avenue N.
Seattle WA. 98103
(253) 752-2242

Pacific Northwest Shop
2702 N Proctor St
Tacoma WA. 98407
(253) 752-2242

East/West Books in Seattle
Located in: Roosevelt Square
6407 12th Ave NE
Seattle, WA 98115
(206) 523-3726

The Herbalist
2106 NE 65th St.
Seattle, WA 98115
(206) 523-2600

The book can also be ordered through any bookstore POD from Ingram Press.

Copies are also available through the Amazon and Barnes and Noble websites. The price per copy is $23.95.

Discounts are available for retailers, non-profit groups, and therapists who wish to share copies with their clients. Please contact Rory for further information.

The Theory and Practice of Joy is a book created with the purpose and intention to assist the reader in increasing Joy in their life. The art work is a collection of pieces from various times in the last few years. I do many works on napkins ,then work them over in Photoshop, add, subtract, color etc. In fact I just have a good time playing with them. I also do painting in oils, acrylics and wax (encaustics). I occasionally carve various materials. I do metal work, mostly copper and brass.